Changzhou Laiyinda Pharm Co., Ltd founded in 1995,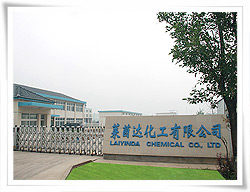 is a High-tech enterprise which focuses in the production of Fine chemical and Pharmaceutical intermediates. Main products are chiral amino alcohol and its derivatives, acetyl amino diethyl malonate, etc.
Our former manufacturing bases was located in southeast enconomic development zone Changzhou ,Jiangsu. In 2008, combined with Changzhou Lianxin Chemical Co., Ltd, we built a new production site in Jiangsu provincial chemical industrial zone--Lianyungang chemical industrial Zone, and has put into production in 2009.We believe that" good faith ...

Manufacturing site:Jingsi Rd,Lianyungang Chemical Industrial Zone,Guannan, Jiangsu, China
Office address:Rm201,Unit 1,6th Building,Tongji Park,Tianning District, Changzhou, Jiangsu,China
TEL:
+86-519-88251268
FAX:
+86-519-88251078
E-mail:
lvmin@lydpharm.com
lyd@hi2000.com